EDANL bringing nationally recognized economic development training to Newfoundland and Labrador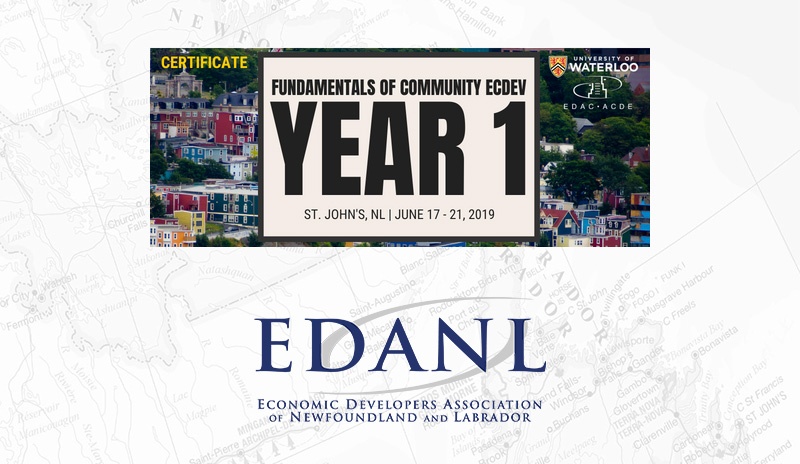 EDANL has arranged for the delivery of nationally recognized economic development training from the University of Waterloo, to take place in St. John's, NL June 17-21, 2019. This is an extraordinary opportunity to build your skills and join dozens of your counterparts across the province to learn and build a lasting professional network.
Each member of EDANL's Board of Directors has taken this course, and highly value their formal training in the field of economic development. Under normal circumstances, professionals from NL would have to travel across Canada to take this training… so be sure to take advantage of this one-time opportunity!
Funding Opportunities
Those working for a private sector employer, not-for-profit organization, industry association, employer consortia, union, an Indigenous government or organization, or are incorporated or a sole proprietor, could be eligible for the Canada-NL Job Grant.  66% of your costs associated with taking this training can be covered through this great program. To learn more about the grant, click here.
Work for a Municipality?
You won't be eligible for the Canada-NL Job Grant, but your EDANL board is working on alternative funding options to help you participate. We expect that demand for this course will be high; indicate your interest to info@edanl.ca and we will make sure you are aware of any funding updates on a first-come-first-serve basis.
Ready to Register?
There are limited seats available in this course, so be sure to register as soon as you can! You can register on the University of Waterloo website via the button below. If you have any questions, please reach out to us at info@edanl.ca.
About the Training
The Fundamentals of Community Economic Development: Year 1 course, delivered by the University of Waterloo in partnership with the Economic Developers Association of Canada (EDAC) helps economic development professionals learn the basics of the field – from what a practitioner really does, to measuring success.
Generalists will learn strategies for handling the many and diverse tasks they're expected to do. Specialists will learn about the spectrum of economic development activities and become more insightful team members. Professionals of all types and experience levels will appreciate the peer-learning and networking opportunities. Participants are eager to share their successes, challenges, and lessons. On a personal level, spending a week learning, eating, and relaxing together builds a bond that leaves each cohort looking forward to reuniting at conferences and other industry events. The establishment of a more connected network of economic development professionals across Newfoundland and Labrador will ensure that the lessons learned and ideas generated during the week of training will last long after the course concludes.
'Year 1' focuses on the core activities of economic developers: community marketing, economic base analysis, economic planning, investment readiness, and labour development, among other topics. One day is dedicated to group field work projects based around a business development challenge. Course participants will learn from addressing the challenges of local municipalities and organizations in the province and vice versa. Usual topics in 'Year 1' include:
The Canadian economy: The context for economic development
Models for community economic development: Canadian and international
Regional economic development: Politics of inclusion
Marketing your community: An integrated approach
Business development issues: Small group field project
Strategic economic planning tools and techniques
First Nations context and engagement
Analytic techniques for local economic development: Economic base analysis
Getting your message out: Issue communication, media relations and politics

EDANL is working with its partners to tailor and expand on course content to meet the priorities and needs of the economy in Newfoundland and Labrador. 'Year 1' is the first of two courses that ultimately lead to a Certificate in Economic Development from the University of Waterloo. To learn more about the course and the certificate, click here.