Upcoming EDANL Events
Local #EcDev Events
Nothing from October 2, 2023 to October 1, 2024.
To have your event listed here, please email info@edanl.ca
EDANL 2021 Conference & Annual General Meeting
NOTE: This event has already taken place.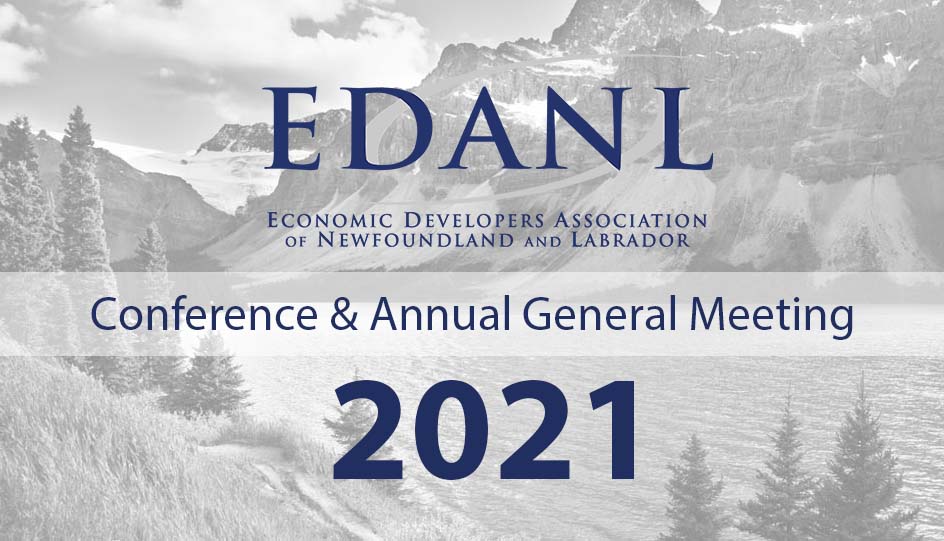 The Economic Developers Association of Newfoundland and Labrador (EDANL) will be hosting its 2021 Conference & Annual General Meeting, sponsored by MDB Insight, on November 30, 2021.
The event will be taking place virtually between 12pm – 2:30pm NST.
The event will include:
A Keynote Presentation on Regional Economic Development
The presentation of Newfoundland and Labrador's 2021 Economic Development Awards of Excellence
Networking opportunities
AGM Presentations including the announcement of EDANL's 2021-2023 Board of Directors
Keynote Presentation – Roseanne Leonard
Managing Director – NL Association of Community Business Development Corporations
Leading research on economic development programming indicates that engaging communities and stakeholders through a regional process is vital to a successful planning and implementation of community growth plans. Municipalities Newfoundland and Labrador (MNL) and the Newfoundland and Labrador Association of Community Business Development Corporations (NLACBDC) are hearing increasing concerns from their members about the economic challenges their communities face. In response to this, MNL, NLACBDC and the Leslie Harris Centre of Regional Policy and Development have organized a Regional Economic Development Taskforce to explore options for more collaborative, effective community economic development. This presentation will highlight the work of the RED thus far, and through interactive breakout sessions give EDANL members the opportunity to provide to it their perspectives on practices that are working in their respective sectors and communities.
Registration
Registration is free, but required. Don't miss this opportunity to network and engage with your economic development colleagues from across the province!